UV varnish
The refinement, which similar to foiling, aims to protect the print from UV radiation, moisture and abrasion. Available in glossy or matte version. In contrast to laminating, we can use it on the whole material but also selectively surface.
Screen printing
The method of embossed printing (Breil alphabet). Screen printing allows you to print flexo again and use swelling lacquers.
Reverse print and peel-off
Glue side labels for transparent packaging and glass and for any combination of peel-off labels, ie: multi-layered labels printed inside and outside.
Lamination
Covering with matte or glossy foil to protect stickers from UV radiation, moisture and abrasion. Used only on a whole surface.

Hot and cold stamping
Refinement of the self-adhesive label using foil in color from the color palette (golden silver) or with any color printed on stamping.
Deactivation of glue and perforation
Self-adhesive stickers with perforation for tearing. Stickers with partial adhesive deactivation / part of not self-adhesive labels.
One-color method of printing thermo-filter labels. The color of the print depends on the color of ribon / carbon. Universal method of marking both paper and foil stickers. It is characterised by: low resolution up to 300DPI, low preparation costs, fast speed, the possibility of variable printing from a database such as bar codes. Below is a short description:
USED MATERIALS: self-adhesive papers and films;
COLORS: depends on ribon: black, red, blue, white, green;
PREPARATORY COST: low;
IMMUNITY TO ATMOSPHERIC CONDITIONS: high;
RESISTANCE TO MECHANICAL FAULTS AND TEMPERATURES: high;
TRUNING / PATCHING: punch;
MINIMUM PRINTING QUANTITY: from 20 pieces;
FREQUENT USE: stickers: warehouse, address, bar codes, name plates, seals, logistics …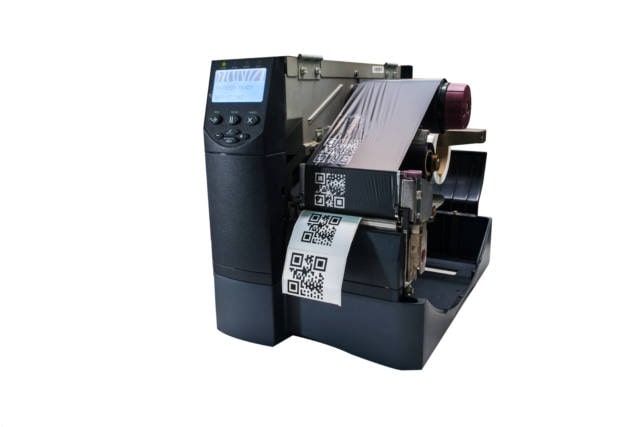 Monochrome printing method on thermal labels. The easiest way to print because of use of the heating head. Despite labels and a printer nothing is needed, that's why customers use this method even for printing outside. Below is a short description:
USED MATERIALS: thermal labels;
COLORS: black;
PREPARATORY COST: practically zero;
IMMUNITY TO ATMOSPHERIC CONDITIONS: no;
TRUNING / PATCHING: punch;
MINIMUM PRINTING QUANTITY: from 1 item;
FREQUENT USE: logistic, address and warehouse stickers…